BANDS: ENROLL NOW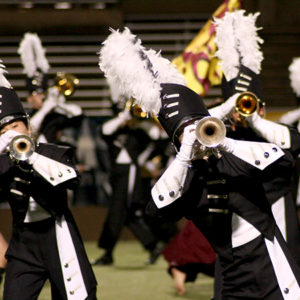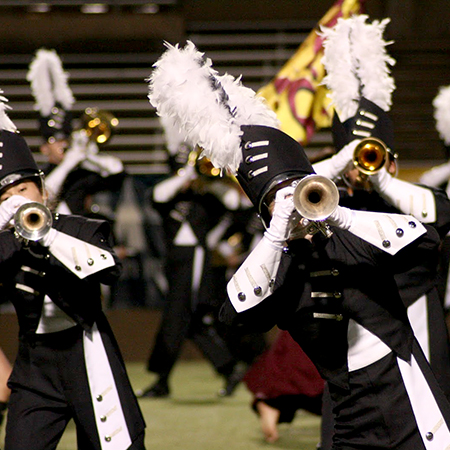 DATE: Saturday, September 28
SITE: Pennington Field, Bedford, Texas
SCHEDULE: Coming in September
2019 JUDGING PANEL (See Bios)
Andy Cook – Music
Dr. Chip Crotts – Music
Dave Glyde – Music
WL Whaley – Music
Greg Llacer – Visual
Randy Nelson – Visual
Jim Sturgeon – Visual
Jeff Ausdemore – Percussion
Dave Veda – Color Guard
TICKET PRICES
Cash or Credit Cards accepted
General admission: $15 All-Day / $10 Prelims-only / $10 Finals-only
Seniors 60 and older: $ 10 All-Day / $8 Prelims-only / $8 Finals-only
Children 6 and under: Free all day
PHOTO AND RECORDING POLICIES
Still cameras are allowed and may be used from stadium seating. Video recording is not permitted, with the exception of the Band Video Designee (see 2019 Director Information packet).
TIMING AND MOVEMENT
Band warm-up lasts 45 minutes. Pit warm-up lasts 30 minutes. We plan 15 minutes of travel time to the entry gate. 4 minutes prior to start time you will be released to the field for set-up/warm-up. You have 15 minutes total to enter, perform and exit the field. No minimum time requirement. Consult the Contest Map for field entry-exit information.
ADJUDICATION AND SCORING
Nine adjudicators critique all components of the performance and make constructive comments in an effort to promote improvement and solidify achievement.
Seven judges determine total score. The weight of the numbers places 60% of the value on music and 40% on visual, as well as 60% on general effect and 40% on performance. Each judge is assigned a specific area of focus. Ensemble and general effect judges are located at a vantage point from above. Individual performance judges are located on the field.
Percussion and color guard are critiqued by specialists focusing on those components, separate from the band as a whole. Their numbers determine placement within caption only and are not part of the total score
FINALS ADVANCEMENT
The top 10 scoring bands from prelims advance to finals, regardless of classification. Performance order will be determined by random draw at the Finalist Directors meeting. The top 5 scoring bands from prelims will receive the last 5 slots in finals. Class Champions from prelims will perform in finals exhibition, should they not be among the top 10 scoring bands.
FINALS TICKETS FOR NON-FINALIST BANDS
If your band does not advance, but you wish to attend as a group, complimentary admission can be provided for your students.
PRELIMS AWARDS
Participation award for all bands
Outstanding Color Guard in each class
Outstanding Percussion in each class
Outstanding Music in each class
Outstanding Visual in each class
Outstanding General Effect in each class
3rd, 2nd place in each class
Contest Champion in each class
FINALS AWARDS
Outstanding Color Guard in Finals
Outstanding Percussion in Finals
Outstanding Music in Finals
Outstanding Visual in Finals
Outstanding General Effect in Finals
5th, 4th, 3rd, 2nd place trophies
Grand Champion trophy
ENROLLMENT AND SCHEDULING
Last year's champion receives choice of performance time
Last year's top 5 finalists receive random afternoon times
Bands enrolled by August 1 will be slotted by random draw
Bands enrolled after August 1 receive the latest available time prior to random draw
Irregular scheduling conflicts (other same-day performance, etc.) considered on a case by case basis
FURTHER INFO AND DETAILS